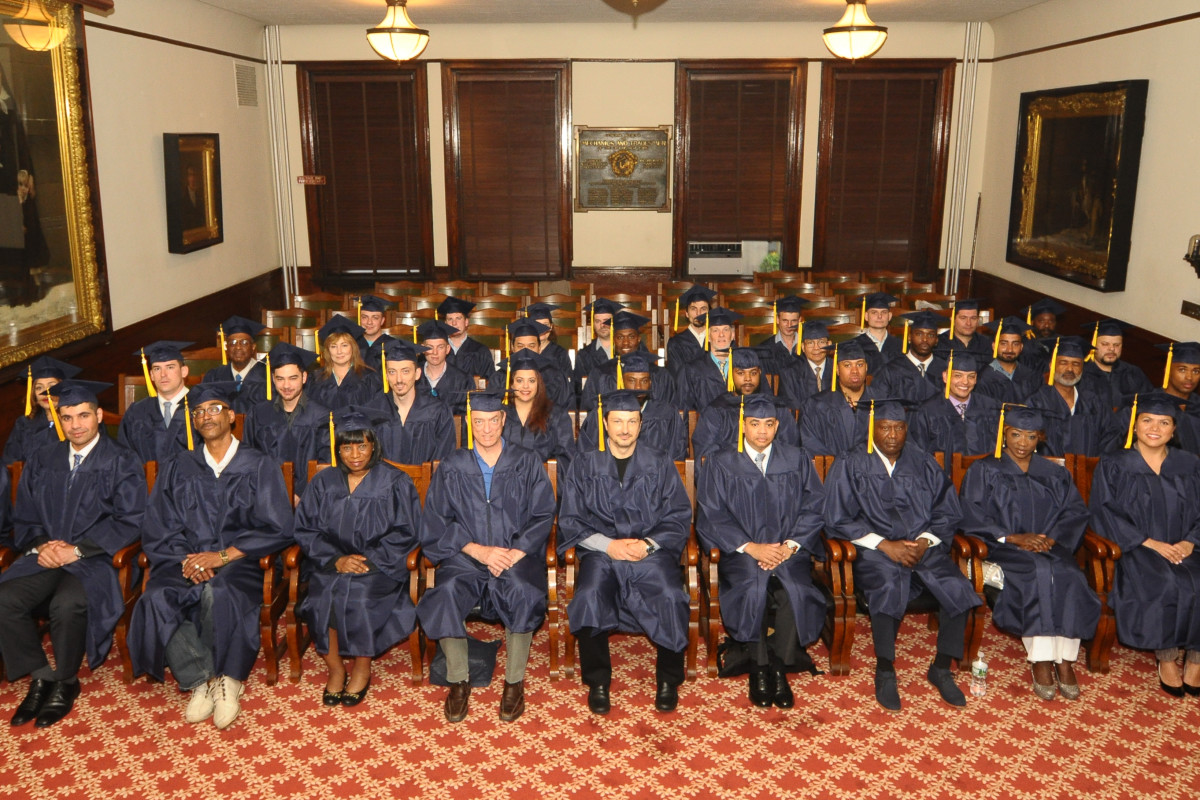 THE GENERAL SOCIETY OF MECHANICS & TRADESMEN
OF THE CITY OF NEW YORK
FOUNDED 1785
The Board of Governors of
The General Society of Mechanics & Tradesmen
and the School Committee extend their
Congratulations to the 
Mechanics Institute
Class of 2016
 We are grateful to all of our supporters who help to make the programs of 
The General Society of Mechanics & Tradesmen possible.
"We wish you, our 

Graduates

, great success in all your endeavors. You join a long legacy of 

graduates

 going back to 1858.  As Mechanics Institute alumni we will continue to welcome you here at The General Society and hope that as you progress in your chosen profession, you will join with your fellow alumni in encouraging and supporting others toward this journey of accomplishment."
Gerard Drohan, Jr.
General Society President
Photos by Dan Luhmann
ELECTRICAL TECHNOLOGY
Kyle A. Harewood                                           David McGeachy
Herbert Powell                                                 Shane A. Velez
Garfield F. Wilson
HVAC SYSTEMS DESIGN
Renato H. Casino                                             Paul London
Dejan Denkovski                                             Charles E. Macdonald
Luis Corporan
PLUMBING DESIGN
Endrit Bardhoshi                                               Medi Hajri
Ledian Kasa                                                      Wojciech Kula
Rodd Hernandez-Mason                                   Brendan McAuley
Conor J. McAuley                                             Ervis Miti
Marino Travalja                                                Lena Vega Centeno
CONSTRUCTION PROJECT MANAGEMENT
Hamzah K. Almahdi                                          Armando Ancheta
Curtis Andrew                                                    Stacy S. Basso
William T. Cantlin III                                         Juan Catano
Oumie Ceesay                                                    Riti Chavez
Raymond Huang                                                Patrick M. Innocent
Renee Jaikaran                                                   Tahj J. Johnson
Colin Murray                                                     Andre J. Neal
Caroline Orlowski                                              Robinson Reyes
Ebony Sanders                                                   Sukhjinder Singh
Sylvette Slone                                                    K. Judy Van Buckley
Afiya Wilson                                                      Herb Wright
VIRTUAL DESIGN 
Berkay Deveci                                                    Henry Perske
Mario Morales
FACILITIES MANAGEMENT
Brandon Cato                                                     Michael Duval
Ethel Harris                                                        Ronald Webster
HISTORIC PRESERVATION
Deidre Hamill                                                     Rickie James