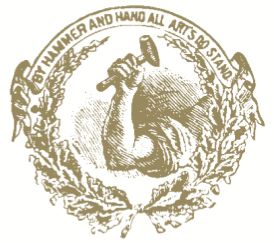 ABOUT THE GENERAL SOCIETY OF MECHANICS & TRADESMEN
FOUNDED 1785
Celebrating Over Two Centuries of Service to the People of the City of New York
The General Society of Mechanics & Tradesmen of the City of New York was founded in 1785 by the skilled craftsmen of the City. Today, this 230-year old organization continues to serve and improve the quality of life of the people of the City of New York through its educational, philanthropic and cultural programs including its tuition-free Mechanics Institute, The General Society Library, and its century-old Lecture Series.
In 1820, The General Society opened one of the City's first free schools as well as the Apprentices Library. The school, which became the Mechanics Institute in 1858, continues to provide tuition-free evening instruction in trades-related education and provides a critical service to improve job opportunities for New Yorkers in the building and construction industry. It also provides a trained workforce for the industry. Without a tuition-free education, many of our students would be unable to get the technical education needed to advance in today's environment. Each fall, over 350 students enroll in Mechanics Institute's programs including Construction Documents and Design, Electrical Technology, HVAC Systems Design, Plumbing Design, Project Management, Facilities Management and Historic Preservation. Recently, the ground-breaking Building Information Modeling (BIM) program: "BIM FOR THE TRADES" was launched at the Mechanics Institute.
Founded in 1820, The General Society Library is the second oldest library in New York City and one of three remaining membership circulating libraries. It serves the educational programs of The General Society. It also makes its extensive collections available to other institutions and the public. The book and periodical collections of the Library span two centuries and are suited to both scholarly research and recreational reading. Its archives date back to 1785. Members enjoy access to current fiction, biography, and non-fiction.
The Labor, Literature and Landmarks Series continues a tradition of public lectures that started at the Society in 1837. The Series brings people of diverse interests from the entire New York area into our Library space. Now in its fifth season, the Artisan Lecture Series pays tribute to the art of craftsmanship by featuring master artisans who lecture about the intricacies of their specialized crafts. The Artisan Lecture Series promotes the work and art of skilled craftsmen to assist in ensuring their unique knowledge is understood and carried forth for future generations.
The building at 20 West 44th Street is the fifth home of The General Society. The façade of the building is a New York City landmark and the building itself is listed on the National Register of Historic Places. The library's main reading room soars to a height of three stories and is topped by a magnificent skylight.
The General Society is a 501(c)3 nonprofit organization.