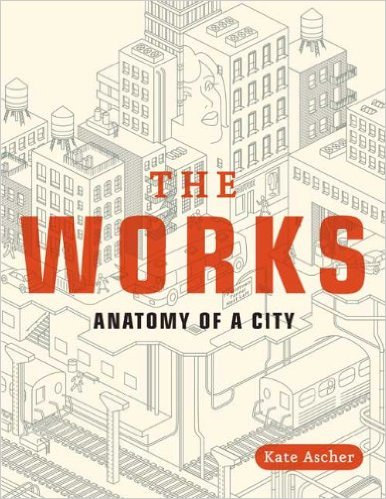 The Works: Anatomy of a City, with Kate Ascher, Partner, Burohappold Engineering,  and Milstein Professor of Urban Development at Columbia University
 Tuesday, June 7th AT THE GENERAL SOCIETY LIBRARY
The lecture starts at 6:30 P.M. – BOOK-SIGNING AND RECEPTION TO FOLLOW
Presented with The New York Landmarks Conservancy and Institute of Classical Architecture and Art
Based on her book, The Works: Anatomy of a City and using New York City as her point of reference, Kate Ascher will examine how things work in the modern city. She will discuss the innovative technologies that power the metropolis: how do each day a billion gallons of water get to city homes and businesses? Who co-ordinates traffic? Where does waste go and what happens when a subway stalls? These questions and many more will be answered, as Ms. Ascher explains the anatomy of the city.
Ms. Ascher will also describe the physical infrastructure that keep the city working as well as the people who support them: the pilots who bring cargo ships into the harbor; the sandhogs who are currently digging the Third Water Tunnel under Manhattan: the television engineer who scales the Empire State Building's antenna for routine maintenance, and the electrical wizards who maintain the century-old system that delivers power to subways. Her insights into the hidden infrastructure of urban life—and its historical context—will offer the audience new ways of looking at both the cities around them and the people who make them work.
Kate Ascher, a Partner in BuroHappold Engineering leads BuroHappold's Cities Group, which specializes in urban planning and development. She is currently the Milstein Professor of Urban Development at Columbia University, where she teaches real estate, infrastructure and urban planning courses. She is also the author of several books on public infrastructure and the delivery of municipal services.
 20 WEST 44th Street (BETWEEN 5TH AND 6th AVENUES), New York City
$15 General Admission; $10 General Society Members, The New York Landmarks Conservancy Members and Institute of Classical Architecture & Art Members and Senior Citizens; $5 Students.
 To register please contact The General Society at 212 840 1840, ext. 2 or email: meg.stanton@generalsociety.org. Advance registration is recommended. www.generalsociety.org
 This program is supported, in part, by public funds from the New York City Department of Cultural Affairs, in partnership with the City Council.