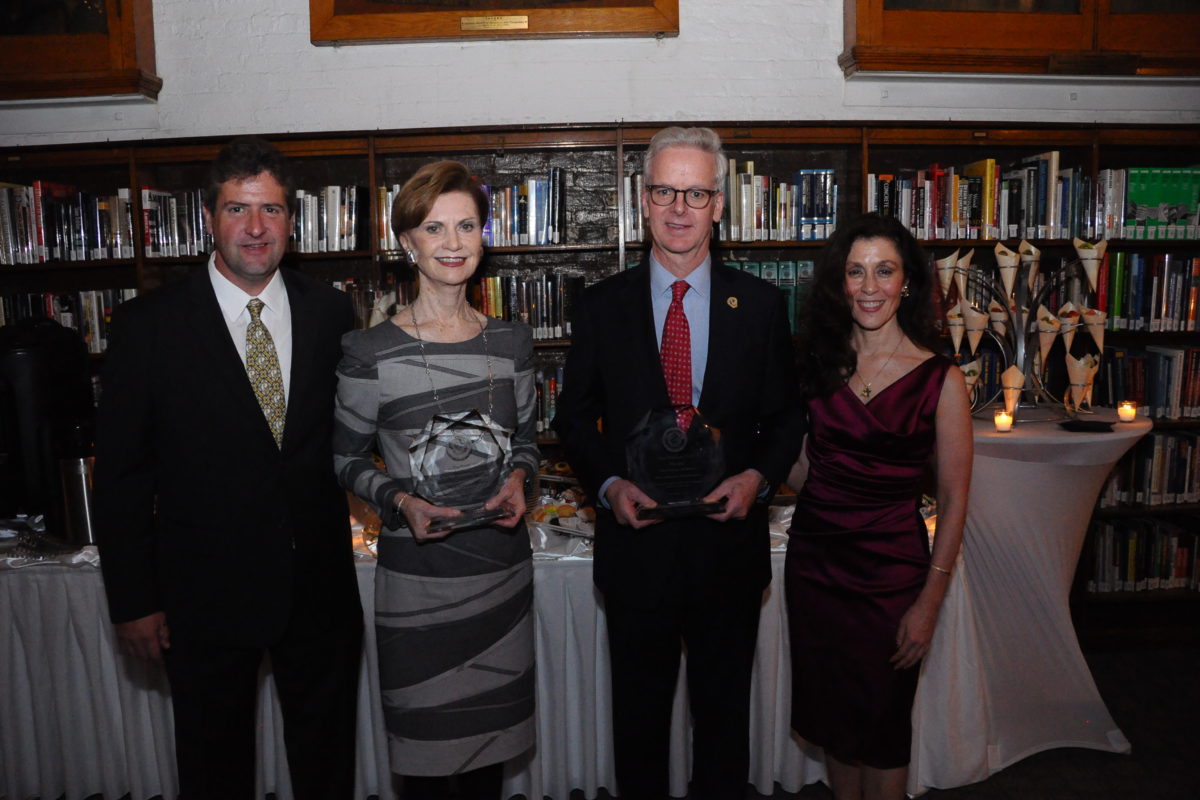 On Thursday, November 17 at the 2016 Annual Craftsmanship and Civic Leadership Awards Gala, we gathered in the historic General Society Library to celebrate the significant contributions of two New Yorkers to our City, both who have played a leadership role in historic preservation and are vital advocates for New York City and State Landmarks.
The evening had a particular resonance, as on that very night, exactly 231 years ago, on November 17, 1785, twenty-two mechanics, artisans and tradesmen gathered together to form The General Society of Mechanics and Tradesmen.
Our 2016 Craftsmanship Award recipient was Peter Pennoyer, FAIA, Principal, Peter Pennoyer Architects; and our Civic Leadership Award recipient was Peg Breen, President, The New York Landmarks Conservancy. It was a wonderful evening in celebration of our honorees and their accomplishments.
We are deeply grateful to all those listed below who supported the Annual Craftsmanship and Civic Leadership Awards Gala which benefitting The General Society of Mechanics & Tradesmen and its Mechanics Institute. Your contributions will help secure the future of our Mechanics Institute so that it can continue its long-standing tradition of helping the men and women of the building and construction industry to make a better life for themselves, their families as well as the community.
BENEFACTOR
The MacQuesten Companies
Penguin, An EMCOR Company
Peter Pennoyer Architects
Jack Resnick & Sons
Susan and Jack Rudin
Utah Valley University, Roots of Knowledge Project
DONOR
Gateway Plumbing and Heating
The Gibbons Family
Heating Help.com
Hudson Scenic Studio, Inc.
IT Systems Solutions, Inc.
KSW Mechanical
The Board of The New York Landmarks Conservancy
Alexander Walker
PATRON
Peg Breen
The Drohan Family
The Durst Organization
David Ford
Highland Financial Advisors
International Union of Operating Engineers, Local Union 14-14B
North Shore Architectural Stone
Plumbers Local No. 1, NYC
STV
Turner Construction Company
SPONSOR
Ottavino Corporation
Aspro Plumbing
Associated General Contractors of NY State
Gerald Caporicci
Cardoza Plumbing Corp
C.D.E. Air Conditioning Co., Inc.
Construction Risk Partners
Duncan Partners
Dynamic Construction Services
John Gallin & Son
Green-Wood
Liberty Contracting Corp.
Mueser Rutledge Consulting Engineers
New York Building Congress
PULLMAN
Rockrose
The General Contractors Association of New York
Tishman Construction, an AECOM Company
Rusk Renovations, Inc.
Lynn Turcotte
Wyatt & Co.
SUPPORTER
Brown & Brown
Rhett Butler, E.R. Butler
John Casaly
Salvatore J. Cassano
Gerard A. Dengel
Mark Ferguson, Ferguson & Shamamian Architects
Donald Friedman, Old Structures Engineering
Cheryl Hammer, AXA Advisors
Natalie Jacobs, Ferguson & Shamamian Architects
KND Licensed Electrical Contracting
Matthew McEnteggart
McManus Mechanical Maintenance Plumbing & Heating
Nili Olay and Jerry Vetowich
Richard Shemtov
Penny Speckter
The Pilgrims of the United States
FRIEND
Esteban & Company
ADCO Electrical Corp.
Rick Bell and Polly Thomas
Cassone Leasing Inc.
Eric Chapeau, Dune
August Cosentino
Elizabeth Davidek
Jennifer Dengel and Tim Herlocker
Mary Dierickx
Kieran Doyle, Structural Technologies
Ellen Fisch
Forsythe Plumbing & Heating Corp.
Vanessa Hoheb
Terrance and Marta Holliday
Phyllis Howe, Knitting and Howe
Mara Johnston, Star America Capital Advisors
Doreen Joslow
Jane Julianelli
Jack S. Kannry, Warshaw Burstein
Jonathan Kutzin
John T. Lane
Francois Lecompte
John Lutsch
Pagano Plumbing & Heating Contractors
Dawn Petroni, Gemco Restorations
Riehm Plumbing
Brad Robertson
Anthony W. Robins
Paul Savage, Andromeda Advantage
Aaron Shemtov, Dune
John Simoni, Goetz Fitzpatrick
Deep Solanki, Structural Technologies
St. Bartholomew's Conservancy
Adrian Taylor
TEI Group
Samuel G. White, PBDW Architects
Jean Wiart
Connie Zambianchi, Amaracon Testing & Inspections
Cecilia Zanetta, Maria Castelli