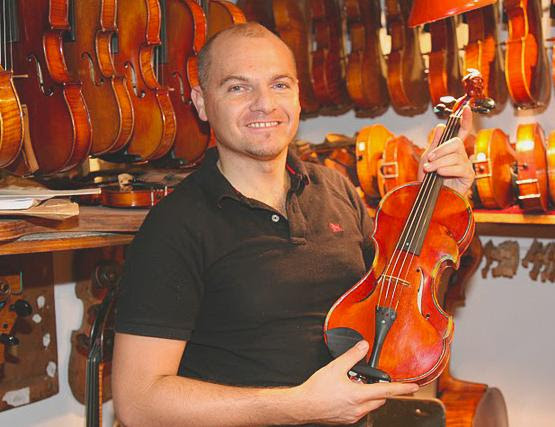 Lukas Wronski, Violin Maker
With Violinist Kinga Augustyn.
Tuesday, February 28th at The General Society Library.
The Lecture starts at 6:30 – Reception to Follow.
Established violin maker, Lukas Wronski will explain the process of creating a violin from start to finish. He will describe the history of violin making, and discuss how the violin was invented and its development over the centuries. He will elaborate on how each violin has its own distinct sound, determined by the properties of the wood and the violin maker's style. There will also be a screening of a brief documentary that captures Mr. Wronski at work.
When the violin is finished, the atelier normally continues to maintain the instrument for the musician, fine-tuning and adjusting it on a regular basis. This ongoing relationship, will be vividly illustrated, when the evening concludes with a short performance from acclaimed violinist virtuoso Kinga Augustyn, playing a violin made by Mr. Wronski.
Lukas Wronski was born in Poland into a family, whose artistic traditions stretch back for centuries. He started playing the violin at the age of nine and made his first violin at thirteen. This experience launched his long study of violin making and music, including his Master of Arts degree in violin making. After decades of extensive training and working for distinguished ateliers of violin making all over the world, Mr. Wronski opened his own violin-making atelier in New York in 2012 and became the owner of Lukas Violins. His instruments have received numerous awards and have been appreciated by many great musicians.
The program begins at 6:30 p.m. in The General Society Library
20 West 44th Street, (Between 5th and 6th Avenues)
New York City.
Reception to follow. Advance registration is recommended.
$15 General Admission;
$10 General Society Members;
$10 Senior Citizens;
$5 Students
This program is supported, in part, by public funds from the
New York City Department of Cultural Affairs,
in partnership with the City Council.