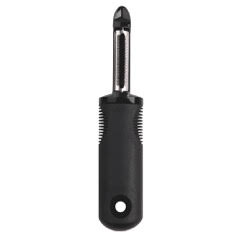 Artisan Lecture: Tucker Viemeister, Viemeister Industries,
Industrial Designer,
Tuesday, April 11th AT THE GENERAL SOCIETY LIBRARY,
The lecture starts at 6:30 P.M. – RECEPTION TO FOLLOW.
Tucker Viemeister is a distinguished and award winning industrial designer and innovator. He is most famous for the iconic OXO Good Grips kitchen tools* that conceived "universal design" when designed at Smart Design, the company he helped found. (*Please see the OXO Good Grips Peeler image above.)
In his lecture, he will discuss, how despite its name, Industrial design is a craft where we use our hands to make things better. Industrial design is an innovation process that turns inventions into things people want and need. Usually seen as a by-product of the "Form Follows Function" credo, Mr. Viemeister's belief, reflected in his work, is that beauty is actually the main point of design. Utility is Beauty and Beauty is Utility, or to use the word that he has coined, it is "Beautility."
Tucker Viemeister will present some projects as examples of how the design process leads to making things better; and how form and function are melded to make objects beautiful. These examples will range from transportation: the Tucker car; housewares: Oxo GoodGrips; hospitality: Yotel and Cosmopolitan Casino interior design; and interpretive environments: Smithsonian exhibits.
During Mr. Viemeister's hugely influential career, in addition to Smart Design, he opened frogdesign's New York office, and founded Razorfish's physical design capability group, Springtime-USA, and was Lab Chief at Rockwell Group and Director of Special Projects with Ralph Appelbaum Associates and Thinc; and he is also the founder of Viemeister Industries. His work is in MoMA and other permanent collections, he holds 32 U.S. utility patents and was named after a car. For more information on Mr. Viemeister, please click here.
20 WEST 44th Street (BETWEEN 5TH AND 6th AVENUES), New York City
Advance registration is suggested. Admission: $15 General admission; $10 General Society members & Senior Citizens; $5 Students. To reserve your place, please register here
This program is supported, in part, by public funds from the New York City Department of Cultural A­ffairs, in partnership with the City Council.