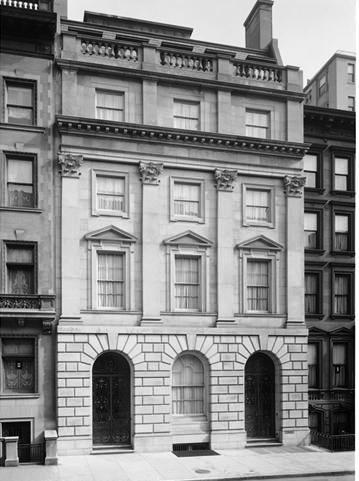 Historic Gilded Age Mansion Interior Restoration.
Mary Kay Judy, Architectural and Cultural Heritage Conservation.
Tuesday, April 18th at The General Society Library.
The Lecture starts at 6:30 p.m. Reception to Follow.
The LANDMARK LECTURE SERIES is presented in partnership with The New York Landmarks Conservancy
In her lecture, Mary Kay Judy, Principal of Mary Kay Judy, Architectural & Cultural Heritage Conservation, will discuss the investigation and ongoing interior restoration of a private, historic Gilded Age mansion in New York City. Built in 1918, the building has had only three owners since its construction, and the interiors remain remarkably intact, saved from conversion into 13 apartments in the 1940s by the storied art collector Hagop Kervokian. The current owners are now committed to restoring the house to its former grandeur. The scope of work includes a historic lighting collection, replication of hand-painted wall paper, restoration of ornate plaster relief detailing, wood paneling, and cast iron, as well as a Della Robbia roundel.
Mary Kay Judy is an award winning architectural conservator and preservation consultant with two decades of national and international experience. Her Brooklyn-based practice focuses on architectural conservation technical and advisory services for current and future landmarks.
Her New York City projects include: St. Patrick's Cathedral; the Ukrainian Institute of America; the Historic House Trust; the Museum of the Chinese in America; and the World Monuments Fund. Other projects include: the National Trust for Historic Preservation's Philip Johnson Glass House and Farnsworth House, Yale University, and the Graduate School of Design at Harvard University.
Internationally, Ms. Judy has served as conservation consultant on several IUNESCO World Heritage Sites and has taught and lectured internationally on conservation and preservation. She has also published widely including the National Trust Preservation Forum Journal and the Journal of Architectural Conservation.
The program begins at 6:30 p.m. in The General Society Library
20 West 44th Street, (Between 5th and 6th Avenues)
New York City.
Reception to follow. Advance registration is necessary.
$15 General Admission;
$10 General Society Members;
$10 New York Landmarks Conservancy Members;
$10 Senior Citizens;
$5 Students
1.0 AIA LU credit is available for qualifying participants
The Landmark lecture series is curated by Lisa Easton, a partner in the New York City based architecture and historic preservation firm, Easton Architects.
This program is supported, in part, by public funds from the New York City Department of Cultural Affairs, in partnership with the City Council.
Additional promotion support is provided by The New York Landmarks Conservancy