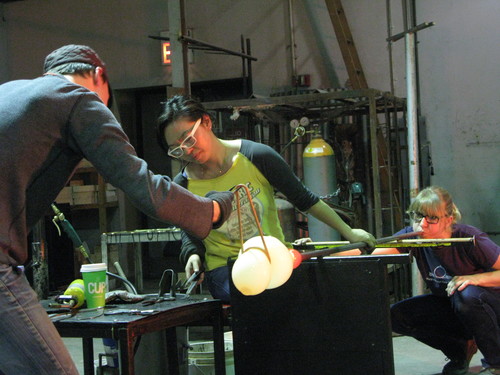 Michiko Sakano, Michiko Sakano Studio,
Glass Artisan,
Tuesday, May 9th AT THE GENERAL SOCIETY LIBRARY,
The lecture starts at 6:30 P.M. – RECEPTION TO FOLLOW.
Japanese Born Glass Artist, Michiko Sakano's exquisite work has commanded attention around the world, The New York Times described her work as "breathtaking." Her upbringing and influence of traditional Japanese aesthetics — incorporating minimalism, discipline of line, original design and the rigor of handcraft shaped Ms. Sakano's perspective early and continues to guide her approach to glass today.
Michiko Sakano has created lighting and chandeliers for Isadore Design, been represented at Clio, has collaborated work with Lindsey Adelman Studio and completed fabrication for Jorge Pardo's glass work. She is the founder and co-owner of One Sixty Glass in Brooklyn. Currently, Michiko maintains Michiko Sakano Studio which is a glass fabrication studio, working with artists and designers in New York City.
Ms. Sakano has taught at MIT, Penland School of Crafts, The Cleveland Institute of Art and elsewhere throughout the U.S. and internationally. Her glass has been displayed in galleries and fine art exhibitions in NYC, Boston, Mexico, Japan, Canada and France. Her work was featured in The New York Times, Lucky Magazine, House and Garden and ELLE Decor among others. She graduated from Syracuse University with a BFA and received a fellowship to attend the Massachusetts College of Art earning her MFA . More information can be found on Ms. Sakano's work at www.michikosakanostudio.com
20 WEST 44th Street (BETWEEN 5TH AND 6th AVENUES), New York City
Advance registration is suggested. Admission: $15 General admission; $10 General Society members & Senior Citizens; $5 Students. To register, please click here.
This program is supported, in part, by public funds from the New York City Department of Cultural A­ffairs, in partnership with the City Council.