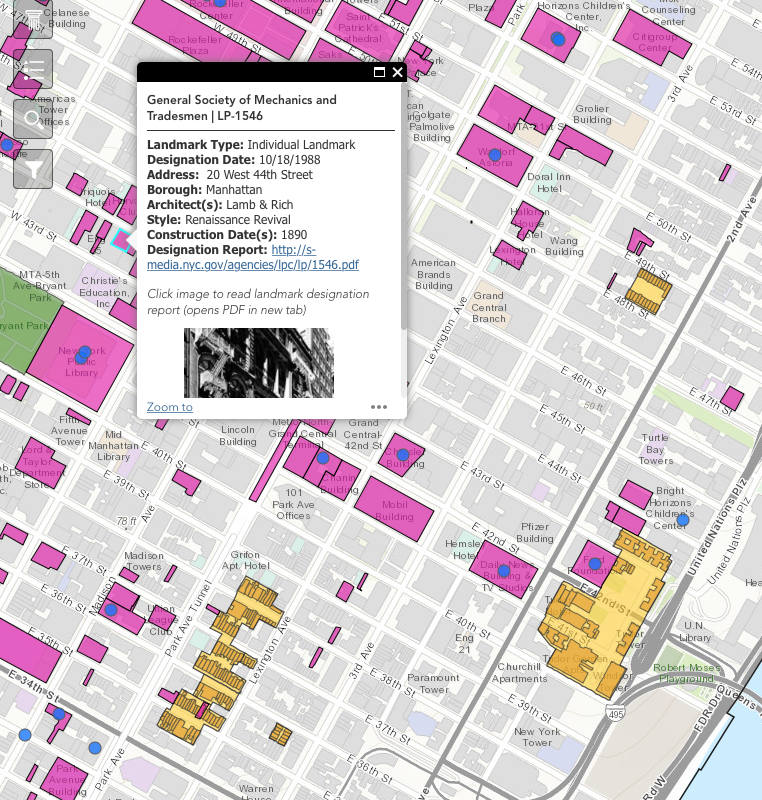 LPC's Historic District Data Project.
Lisa Kersavage and Daniel Watts.
New York City Landmarks Preservation Commission.
Tuesday, April 17 AT THE GENERAL SOCIETY LIBRARY.
The lecture starts at 6:30 P.M. – RECEPTION TO FOLLOW.
The General Society Landmarks Lectures are presented in partnership with the New York Landmarks Conservancy.
Lisa Kersavage and Daniel Watts will discuss New York City Landmarks Preservation Commission's Historic Building Data Project,the largest and most comprehensive historic building data collection created by a municipal preservation agency in the United States. Through the project, which was funded by The New York Community Trust, building-by-building information was transferred from 50 years of the Commission's designation reports into a Geographic Information System (GIS) database, consolidating decades of research. The database contains close to 36,000 buildings and sites, including the nearly 34,000 historic buildings within the city's 141 historic districts and 1,408 individual landmarks. Landmark Preservation Commission recently launched an enhanced version of its interactive web map, Discover New York City Landmarks, which is powered by that data, making it easier than ever for the public to access information about the city's designated buildings. Ms. Kersavage and Mr. Watts will describe the project, demonstrate how the public use the web map and data set, and discuss how this information, and other data, is incorporated into the agency's analyses and planning.
Lisa Kersavage is the Director of Special Projects and Strategic Planning at the LPC. Lisa supervises the work of the Research, Archaeology and Environmental Review Departments, and manages special research projects. Ms. Kersavage previously served as the Senior Director of Preservation and Sustainability at the Municipal Art Society, preservation policy consultant to the William Penn Foundation and Executive Director of the Fitch Foundation and Friends of the Upper East Side Historic Districts. she holds a M.S. in historic preservation from Columbia University and a B.A. in art history from Penn State University.
Daniel Watts is the Geographic Information System (GIS) Administrator and Planning Analyst at the LPC, where he coordinates GIS projects and data analysis. Mr. Watts holds master's degrees in urban planning and historic preservation from the University of Virginia and Clemson University.
1.0 AIA LU credit is available for qualifying participants.
20 WEST 44thStreet (BETWEEN 5TH AND 6th AVENUES), New York City
Advance registration is required to reserve your tickets, please click here.
$15 General Admission; $10 General Society Members and New York Landmark Conservancy Members and Senior Citizens; $5 Students.
This program is supported, in part, by public funds from the New York City Department of Cultural Affairs, in partnership with the City Council.