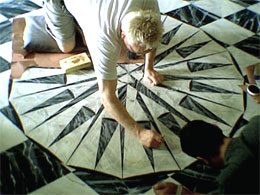 Spring 2018 Artisan Lectures.
Please join The General Society as we pay tribute to the art of craftsmanship. The Society will feature internationally known artisans who will talk about the intricacies of their specialized crafts. The Artisan Lecture Series promotes the work and art of skilled craftsmen to assist in ensuring their unique knowledge is understood and carried forth for future generations. This series is co-curated by Rhett Butler, Owner and Founder of E. R. Butler and Jean Wiart, Master Artisan of Fine Ornamental Metalwork.
Tuesday, May 8th– Ken Wampler and Colleagues from Alpha Workshops.
Dedicated to creating beauty and changing lives, The Alpha Workshops is the nation's only nonprofit organization providing decorative arts education and employment to at-risk youths and adults with disabilities or other vulnerabilities. For reservations, please click here.
Wednesday, May 9th – Tessa Murdoch, Deputy Keeper at the Victoria & Albert Museum, 'Master and Apprentice: The Transfer of Skills in the London Huguenot Community 1680-1760'.
Held in partnership with The Huguenot Society of America. Free Admission. For reservations, please click here.
Thursday, May 10th– David F. Gibson, AIA, Principal of DF Gibson Architects,The Restoration of a Bronx Landmark.
Mr. Gibson will detail the story behind the restoration of one of New York City's most significant landmark buildings, the South Bronx Job Corp Center which features an extraordinary display of artisan mastery in the Elizabethan Jacobean Revival style. For reservations, please click here.
Tuesday May 22nd–One-Track Mind: Drawing the New York Subway by Philip Ashforth Coppola, Ezra Bookstein and Jeremy Workman.
Philip Coppola and colleagues will discuss his exquisite drawings of the New York subway and the background to his project, captured in a new book. Free Admission. For reservations, please click here.
Tuesday, June 12th – William Youse, Director of Technical Services and Special Projects at Steinway & Sons. Mr. Youse will discuss the craftsmanship that goes into each piano, and how these iconic Steinway instruments are restored. For reservations, please click here.
The programs begins at 6:30 p.m. in The General Society Library, 20 West 44th Street, Manhattan
Additional artisan lectures will be added.
A reception will follow all lectures. Advance registration is recommended. Please contact karin.taylor@generalsociety.orgto register. $15 General Admission; $10 General Society Members; $10 Senior Citizens; $5 Students.
This program is supported, in part, by public funds from the New York City Department of Cultural Affairs, in partnership with the City Council.