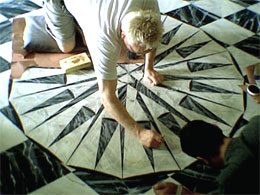 Spring 2018 Artisan Lectures.
Please join The General Society as we pay tribute to the art of craftsmanship. The Society will feature internationally known artisans who will talk about the intricacies of their specialized crafts. The Artisan Lecture Series promotes the work and art of skilled craftsmen to assist in ensuring their unique knowledge is understood and carried forth for future generations. This series is co-curated by Rhett Butler, Owner and Founder of E. R. Butler and Jean Wiart, Master Artisan of Fine Ornamental Metalwork.
The remaining lectures are:
Tuesday, June 12th – William Youse, Director of Technical Services and Special Projects at Steinway & Sons. Mr. Youse will discuss the craftsmanship that goes into each piano, and how these iconic Steinway instruments are restored. For reservations, please click here.
Tuesday, June 26th – Dawn Ladd, Founder, Aurora Lampworks. Lighting fixtures not only tell stories about history but also about science and advances in technology. Many fixtures have been around long enough to undergo several technology upgrades – illustrated by the recently restored General Society picture lights. Ms. Ladd will talk about the integration of LED technology into historic fixtures, the challenges, and the benefits and show examples of the powerful diodes at work. For reservations, please click here.
The programs begins at 6:30 p.m. in The General Society Library, 20 West 44th Street, Manhattan
Additional artisan lectures will be added.
A reception will follow all lectures. Advance registration is recommended. Please contact karin.taylor@generalsociety.orgto register. $15 General Admission; $10 General Society Members; $10 Senior Citizens; $5 Students.
This program is supported, in part, by public funds from the New York City Department of Cultural Affairs, in partnership with the City Council.