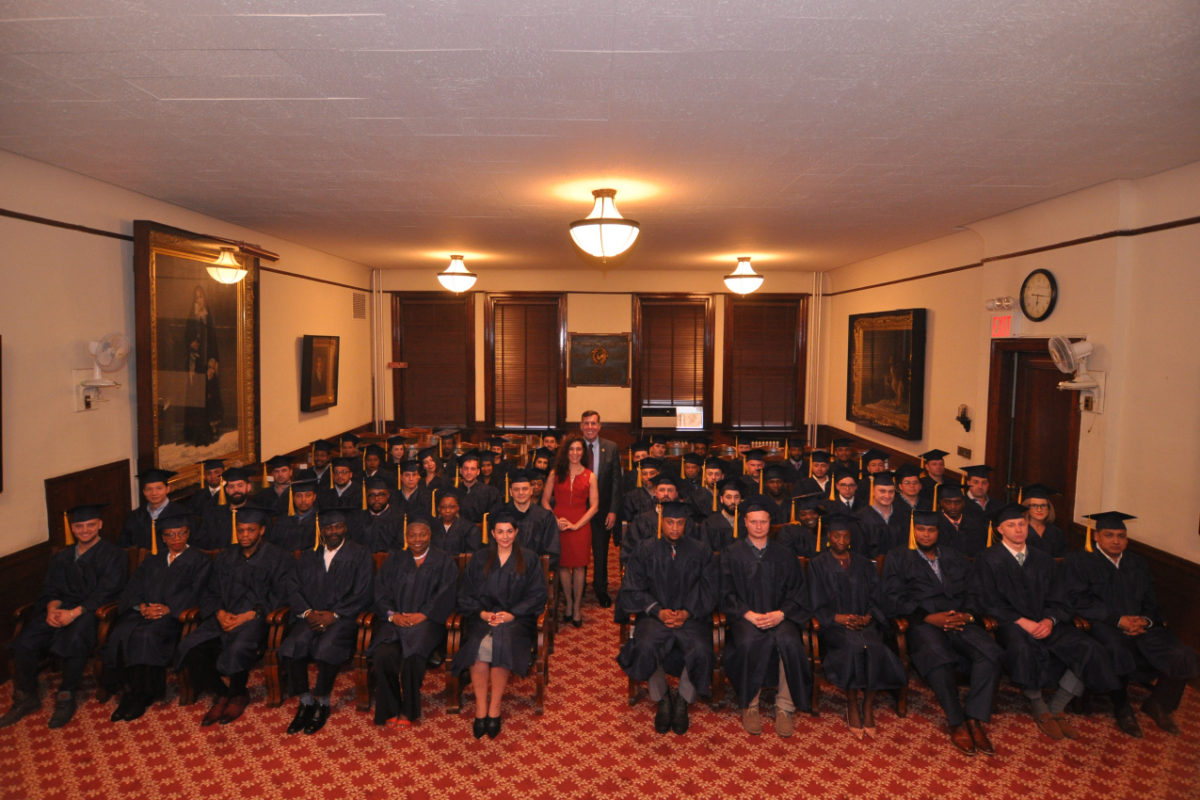 The Board of Governors of
The General Society of Mechanics & Tradesmen
and the School Committee extend their
Congratulations to the 
Mechanics Institute
Class of 2019
We are grateful to all of our supporters who help to make the programs of 
The General Society of Mechanics & Tradesmen possible.
---
"You represent the sixth generation of students to graduate from this Institute without having to bear a crushing debt. This is our gift to you. All of us. And you are worthy of that gift because you rose up and you accepted the challenge. You studied hard and you thought you could succeed.
You believed you could succeed.
And you did succeed.
You are smarter now, each in your own way. You are smarter.
So go and make a difference in our City.
Go make a difference in our world.
Make it better. Stronger. Smarter.
We believe in you ."
Dan Holohan
General Society President
ELECTRICAL TECHNOLOGY
Edward Daniel Best
Patryk Bieniasz
Jonathan Concepcion
Darien Harrington
Luis Hernandez
Karol Kaczmarczyk
Alexis Lucero
Juan Lucero
Steven Lucero
Julio Morales
Denise Pollock
Andrew Rivera
Vannessa M. Rodriguez
Wojciech Rutkowski
Darius Schaller
La-Vainna Seaton
David A. Soares
Glenn Stephen Taitt
Zenawi A. Teskani
Donte Williams
PLUMBING SYSTEMS
Aleksey Bahatyrov
Augustín Braulio
Anthony Gianino
Arthur Mauro
Yves Momplaisir
Adam Nathanson
Tito Niola
Juan Niola
Tony Trotter
HVAC/R SYSTEMS
Sajmir Bushgjokaj
John Earl Muldrow
Matthew Sheps
Krzysztof Wasik
CONSTRUCTION PROJECT MANAGEMENT
Hughton Anderson
Mauricio Eduardo Arias
Joseph Bianchi
Izabela Borowski
Marcin Buczel
Naisha Cuthbert
Rogerio DeResende
Bennie Edgerson Daye
Paola Andrea Duran
Smith Edner
Randell H. Evans
Carren Adriana Foxe
Benjamin Giannone
Suzzy Gonzalez
Arlind Hasaj
Tanisha Hunter
Philippe A. Jean-Simon
Chamaine Monique Johnson
Vernon Lee Pow, Jr.
Amanda A. López
Martyna Lupinska
Imani Milima
John S. Moller
Javier L. Narvaez
Renato Nogueira
Miguel A. Ortiz
Sokol Paluca
Melissa Pina
Marcos J Paulino Sánchez
Lauren Rivera
Fabian Francisco Rodriguez
Marisela De Los Angeles Rojas
Bernardo Rosario
Destani J. Spears
Dimitrios Stratis
Marleny Tapia
Olukayode Teague
Lindsay Tolpa
Lejla Torlakovic
Stefanos Tsevdos
Victor Tunon
Joseph M. Turner
Slawomir Tylutki
Carlos H. Valentin
Christopher Vallario
Zhongcheng Zhu
About The Mechanics Institute
The Mechanics Institute, an educational program of The General Society of Mechanics and Tradesmen, established in 1858, continues to provide tuition-free evening instruction in trades-related education and provides a critical service to improve job opportunities for New Yorkers in the building and construction industry. Without a tuition-free education, many of our students would be unable to get the technical education needed to advance in today's environment. Each fall, over 300 students enroll in the Mechanics Institute's programs including Electrical Technology, HVAC/R Systems, Plumbing Systems and Construction Project Management and AutoCAD and BIM.