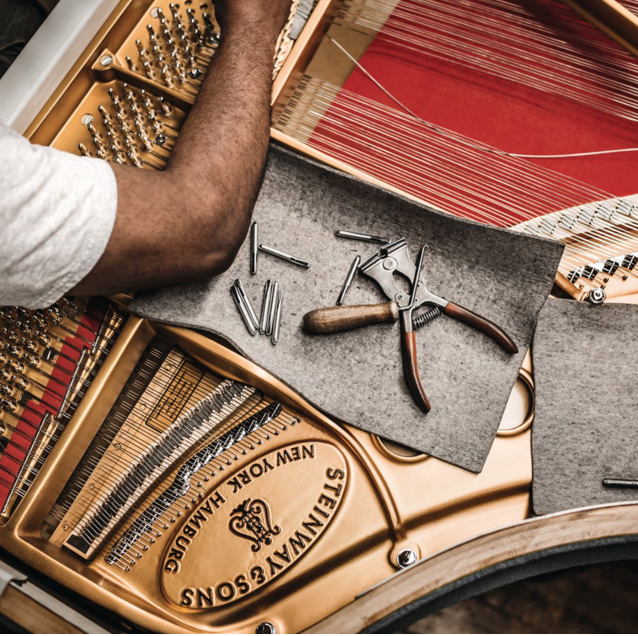 Steinway Pianos: Third- Generation Steinway Craftsman Bill Youse,
Director of Technical Services and Special Projects at Steinway & Sons .
Tuesday, June 12th AT THE GENERAL SOCIETY LIBRARY.
The lecture starts at 6:30 P.M. – RECEPTION TO FOLLOW.
Over the past 45 years, Bill Youse has worked nearly every job in the Steinway factory. He is a third-generation Steinway craftsman, having followed in the footsteps of his father and his grandfather. Mr. Youse started at Steinway in 1973, first taking on routine facilities maintenance and then moving up through packing and driving before being recognized for his initiative and placed on "the bench," learning the highly skilled piano craft work for which Steinway is known. He worked in the color matching and action departments before being selected for an apprenticeship that taught him so much about every aspect of the piano construction process that he was highly suited for his next gig, as a restoration specialist. He has also directed Steinway's restoration services, where he has overseen rehabilitation of some of the most famous pianos in the company's history, including the White House piano; a Smithsonian heirloom piano that spent much of its life in Congress; and a storied Motown piano that was originally built in the 1870s.
In this special presentation, Bill Youse will discuss the work that goes into each piano—whether new or restored—and will review how the Steinway maintains its position as the piano by which all others are judged.
Master to apprentice, generation after generation, each Steinway piano is built with experience decades in the making — by artisans who take pride and time to humanize a piano still made by hand, who strive for and achieve continuous innovation and improvement. Every Steinway piano, is a work of artconsisting of more than 12,000 individual parts, and has its own musical character.
20 WEST 44th Street (BETWEEN 5TH AND 6th AVENUES), New York City.
Advance registration is recommended. Admission: $15 General admission; $10 General Society, Members & Senior Citizens; $5 Students. For Reservations, please click here.
This program is supported, in part, by public funds from the New York City Department of Cultural A­ffairs, in partnership with the City Council.