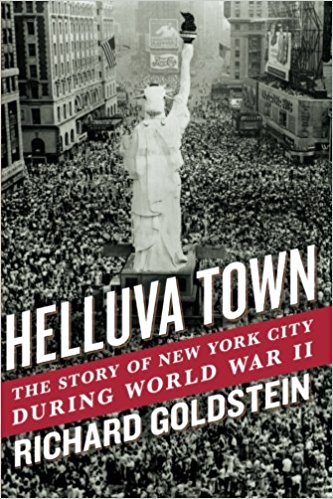 Labor, Literature and Landmark Lecture Series Spring 2018
In Partnership with Gracie Mansion Conservancy and Gracie Book Club
Helluva Town: The Story of New York City During World War II
A panel discussion with author Richard Goldstein, Professor Farah Jasmine Griffin, Ph.D and moderator Dr. Jan Ramirez, Ph.D
Thursday, June 14th AT THE GENERAL SOCIETY LIBRARY
The program starts at 6:30 P.M. – RECEPTION TO FOLLOW
Author and journalist Richard Goldstein's engaging account of the extraordinary economic, social, and cultural shifts across New York's five boroughs in the early 1940's. World War II serves as the backdrop of broad upheaval and overdue attention paid to inequality and exclusion in many interconnected professions and ways of life. Just as newly-arriving migrants, battle-bound men and women, and Fascism-fleeing refugees together cement New York's place as global crossroads, so the City's artistic yield responds in the pioneering ways spawned by this dynamic social context. A new national policy for domestic security known as "Civil Defense" brought Mayor La Guardia to Gracie Mansion as its first official residence. And the General Society's very midtown location bridging Times Square and Grand Central Terminal plays a key role in Goldstein's lively narrative.
The Gracie Book Club was founded by First Lady of New York, Chirlane McCray in 2015 and is now completing its second season. There will be a special video greeting from First Lady Chirlane McCray to start the event.
Gracie Book Club and General Society members and attendees will gather in the shadow of where Betty Comden and Adolph Green hatched their eternal lyric for the wartime musical On the Town: "New York, New York-a helluva town. The Bronx is up but the Battery's down."
Richard Goldstein is a journalist and author with a particular interest in the World War II years. In addition to his most recent book, Helluva Town: The Story of New York City During World War II, his books include America at D-Day and Spartan Seasons: How Baseball Survived the Second World War. He writes for The New York Times, where he has worked as an editor. Professor Farah Jasmine Griffin's major fields of interest are American and African American literature, music, history and politics. The recipient of numerous honors and awards for her teaching and scholarship, and the author of many books, including Harlem Nocturne: Women Artists and Progressive Politics During World War II. Jan Seidler Ramirez is the founding Chief Curator and Executive Vice President of Collections at the National September 11 Memorial and Museum. Under her guidance its collection has grown to include many thousands of objects, artworks, photographs, films, audio artifacts, relics, and other primary evidence materials relevant to 9/11.
20 WEST 44thStreet (BETWEEN 5TH AND 6th AVENUES), New York City
Free Admission. Advance registration is necessary. Reservations will be made on a first-come first-serve basis. Space is limited.
Remember, if you are not able to attend, you can still participate in the Gracie Book Club discussion online. The Program will be streamed live on the First Lady's YouTube channel.
Please note that reading the book in advance of the live gathering is recommended but not required.
This program is supported, in part, by public funds from the New York City Department of Cultural Affairs, in partnership with the City Council.