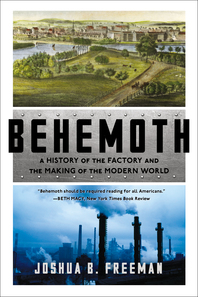 Behemoth: A History of the Factory and the Making of the Modern World.
Joshua B. Freeman, Distinguished Professor of History,Queens College and the Graduate Center City University of New York.
Thursday, June 28thAT THE GENERAL SOCIETY LIBRARY.
The lecture starts at 6:30 P.M. – Q&A, BOOK-SIGNING & RECEPTION TO FOLLOW.
In this talk, based on his book, Behemoth: A History of the Factory and the Making of the Modern World, celebrated historian Joshua B. Freeman will provide an illuminating overview of the global history of the rise of the factory and its effects on society.
We live in a factory-made world: modern life is built on three centuries of advances in factory production, efficiency, and technology. But giant factories have also fueled our fears about the future since their beginnings, when William Blake called them "dark Satanic mills." Many factories that operated over the last two centuries—such as Homestead, River Rouge, and Foxconn—were known for the labor exploitation and class warfare they engendered, not to mention the environmental devastation caused by factory production from the beginning of the Industrial Revolution up to today.
In this major work of scholarship that is also wonderfully accessible, Professor Freeman tells the story of the factory and examines how it has reflected both our dreams and our nightmares of industrialization and social change. He whisks readers from the textile mills in England that powered the Industrial Revolution and the factory towns of New England to the colossal steel and car plants of twentieth-century America, Eastern Europe, and the Soviet Union and on to today's behemoths making sneakers, toys, and cellphones in China and Vietnam.
"Rich and ambitious. . . . More than an economic history, or a chronicle of architectural feats and labor movements, Behemoth depicts a world in retreat that still looms large in the national imagination." — The New York Times
Joshua B. Freeman is a Distinguished Professor of History at Queens College and the Graduate Center of CUNY. His previous books include American Empire and Working-Class New York, among others. He lives in New York City.
20 WEST 44thStreet (BETWEEN 5THAND6thAVENUES), New York City
Free Admission. Advance Registration recommended, please click here to register.