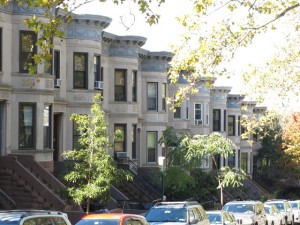 50th Anniversary Lecture Series of Historic District Council.
The General Society is pleased to present this lecture in partnership with the Historic District Council.
In the Thick of It: The Historic District Council Best War Stories, How Certain Districts/Landmarks Came to Be
Thursday, June 11, 2020   – 6pm
This panel will be presented via Zoom – registration is required 
Designation is only the beginning is a common saying amongst preservation advocates; but claiming designation is step one is somewhat of a fallacy. In reality, we know the process of designation has many, many steps. Advocates work for years to have their neighborhood or building Landmarked. In this panel, three leaders of community groups will discuss their experiences obtaining Landmark Designations for their neighborhoods and describe how HDC helped. Jeffrey Kroessler will talk about Sunnyside Gardens, Queens; Lynn Massimo will talk about Sunset Park, Brooklyn; and Deb Young and Suzanne Spellen will talk about Crown Heights North, Brooklyn.
Scheduled speakers:
Jeffrey A. Kroessler has a Master of Library Science from Queens College and a Doctorate in American History from the City University of New York Graduate School. Mr. Kroessler is an Associate Professor at John J. College of Criminal Justice and the CUNY Head of circulation. Mr. Kroessler is a preservationist, an advocate and an author. In addition to HDC, he serves on the Boards of the Citizens Emergency Committee to Preserve Preservation; Greater Astoria Historical Society; Queensborough Preservation League; Sunnyside Gardens Preservation Alliance; and the City Club. Dr. Kroessler has been on the HDC Board since 1986.
Lynn Massimo holds a degree in fine art photography from New York University and spent part of her early career as an architectural photographer. Though she has officially left the commercial world of photography, her expertise found a new outlet in 2013, when she co-founded the Sunset Park Landmarks Committee to advocate for the designation of a Historic District in Sunset Park, Brooklyn. As part of this effort, Lynn spearheaded a block-by-block outreach and survey campaign, including the documentation of Sunset Park's many elegant rowhouses, religious structures, institutional buildings and green spaces. Her photographs proved instrumental in bringing awareness to the cause and bringing the campaign to the attention of the New York City Landmarks Preservation Commission.
Suzanne Spellen is a long-time board member of the Crown Heights North Association, Inc. (CNHA). She was a resident of both Crown Heights North and Bedford Stuyvesant for almost 40 years, starting in the 1980s. A popular columnist for Brownstoner.com, she also gives walking tours and lectures on Brooklyn neighborhoods and architecture. In 2015, HDC awarded her their Grassroots Award for her community activities and writing. She now lives in Troy, NY, and is Vice Chair of the Troy Community Land Bank, has a seat on the Troy Planning Commission.
Co-sponsored by: The General Society of Mechanics and Tradesmen of the City of New York