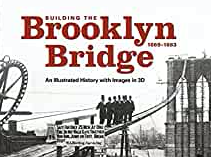 Fall Lectures 2021 including Archtober lectures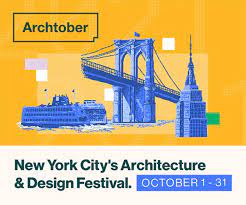 Tuesday, Oct 5th, 6pm, Building The Brooklyn Bridge (1869 to 1883) with author Jeffrey Richman (An Archtober  Event).
Author Jeffrey I. Richman will describe in engaging detail how the Brooklyn Bridge was built and explains the function of each of its complex parts, from the anchorages and elegant towers to the massive cables, and the challenges each presented.
In a talk based on his new published book, Building the Brooklyn Bridge, he will tell the story of how a structure of unprecedented size and technology was built over the East River, connecting, for the first time, the then independent cities of Brooklyn and New York, two of the most populous cities in America. This awe-inspiring bridge-built between 1869 and 1883 during an age of technological innovation-was not only a modern engineering feat of extraordinary imagination, fortitude, and skill, it also was a towering beacon of human triumph.
This is both an in-person event and online event, there are two links, one for in-person registration and one for virtual registration –
Advance registration is required to attend the lecture and seating will be limited. Proof of Vaccination and masks are also required for anyone attending in-person.
Tuesday, Oct 12, 6pm, Iconic Design that Transformed Time Square: TKTS Booth in the Heart of Times Square with Nick Leahy, Perkins Eastman,  (An Archtober  Event).
Nick Leahy, Perkins Eastman will discuss the  iconic design that transformed Times Square from "the crossroads of the world" into the one of the most visited public gathering spaces on the globe.
An all-glass amphitheater where people enjoy the theater of Times Square, the TKTS Booth at Father Duffy Square is a "window into the city's soul." Beneath the glowing red glass structure, a fiberglass orb houses the Theatre Development Fund's tickets booth, a revered destination for affordable seats at Broadway shows. Inspired by the brilliant competition-winning entry by Choi Ropiha, Perkins Eastman, led by Nick Leahy designed a building with elegance, beguiling simplicity, and precise detailing — now a celebrated landmark and symbol of New York City.
Tuesday, October 19, 6pm,  Technical Aspects of Terracotta Restoration with Helen Thomas-Haney, Jablonksi Building Conservation (An Archtober Event).
Architectural terra cotta is plain or ornamental building units consisting of fired mixtures of clay, fusible materials, and grog with a glazed or unglazed ceramic finish.  Manufactured in the United States starting in the mid-1840s, architectural terra cotta flourished in the late 19th and early 20th centuries as a less expensive alternative to carved stone.  The basic fabrication process for architectural terra cotta has remained the same for the past 150 years.
This presentation will provide a brief history and description of manufacturing and installation processes for terra cotta.  However, the focus of the presentation will be the practice and challenges of repairing deteriorated terra cotta from surveying and probes, to testing to characterize the material and help determine the causes of deterioration, and common restoration techniques.
Thursday, October 28, 6pm,  NY in the Progressive Era: Social Reform and Cultural Upheaval 1890-1920 with author Paul Kaplan.
Thursday, November 4, A Booklover's Guide to New York with author Cleo Le Tan.