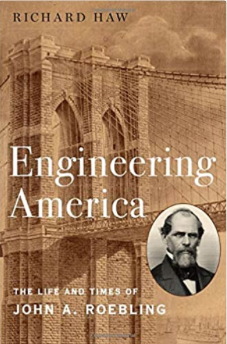 Future Lectures in the Fall (with more to be added)
 Bertolini Architectural Works – Restoration of Tudor City – Thursday, September 15th at 6pm. Carlos Honorio, Jr., Associate Principal and colleagues from Bertolini Architectural Works
They will discuss the Exterior Restoration with Terra Cotta Spire and Cartouche Replacement at the landmark apartment complex  Tudor City.
Tracks of the NYC Subway with Pete Dougherty on Thursday, September 22 at 6pm
 The talk is based on a 172-page book containing depictions of every main line and yard track (including track numbers) in the entire New York City subway system–all 750+ miles of track and 472 stations of it.
Engineering America: The Life and Times of John A, Roebling with Richard Haw, Thursday September 29th at 6pm
John Roebling was one of the 19th Century's most brilliant engineers, inventor, successful manufacturer and fascinating personalities. Professor Haw will discuss his compelling life story.
The Women Who Changed Architecture, Tuesday October 18th at 6pm
This will be a panel discussion of some of New York's leading architects on a visual and global chronicle of the triumphs, challenges and impact of over 100 women in architecture inspired by the book, The Women Who Changed Architecture.
From John Wick to Silver Linings Playbook from Boardwalk Empire to Parks and Recreation with Ross McDonald and Steven Heller, November 1 at 6pm.
An exclusive behind-the-scenes look at the art and design of graphic props for popular films and TV shows like Parks and Recreation, John Wick, Silver Linings Playbook, The Knick, and Boardwalk Empire.